Home > The Center's Characteristics

Ensuring, preserving and maintaining an appropriate treatment environment
Shimane Asahi Rehabilitation Program Center implements all varieties of measures for the purpose of correction and rehabilitating inmates in a suitable environment with appropriate facilities. It makes effective use of IT and state-of-the-art security apparatus and has constructed a flawless protection and security system.
■Facilities/Equipment
Much beautiful nature has been left intact in Asahi Town, Hamada City, such as the mountains and town of Iwami. In order to pursue an exterior design that harmonizes with the local environment and scenery, we have effectively assimilated many things from the local area: its landscape, which is typified by terraced rice fields; its form, which is typified by the townscapes featuring intertwining gabled roofs; and its materials and color, which are typified by Sekishuu roof tiles. In concrete terms, the facade of the administrative office that forms the public face of the facility, and the roof of the passageway that the inmates habitually pass along have made use of Sekishuu roof tiles. The slope that forms the approach way to the administrative office has been modeled on terraced rice fields.
Additionally, exercise grounds have been placed to the left and right of the control building and a three-storey passageway in the form of a loop encircles them to make it impossible for anyone to overlook the site.
The first and third floors of this three-storey passageway are used by the inmates and the second floor is used by staff, which makes enable private sector workers engaged in general operational duties impossible to have contact with the inmates.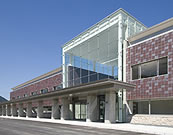 Administrative Office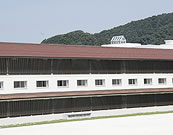 Passageway Roof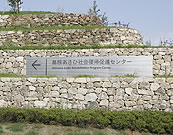 Approach Way to the Administrative Office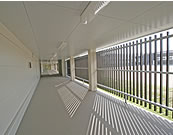 Passageway

Prison Facility Area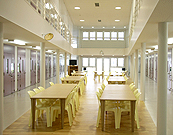 Detention Building (Two-storey well)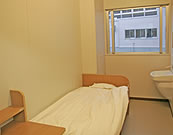 Cell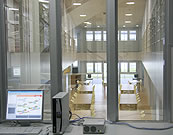 Observation Room (Detention Building)
■Security
At Shimane Asahi Rehabilitation Program Center, inmates are allowed, as a general rule, to move around within the facility without being accompanied by staff. This is done in order to foster a spirit of autonomy among them, as well as to enable us to accomplish our duties efficiently. For this purpose, we have introduced an IT system which allows us to follow the location of the inmates. All the location information is displayed in a comprehensive viewer located in the central observation room. Private sector guards can utilize this viewer to locate the inmates, and they can also observe the inmates' movements by camera and lock and unlock doors by electronic keys.
In addition, double fences have been installed at this center. The fence on the side of the security zone has been equipped with vibration detector sensors and CCTV cameras, and on the perimeter, infrared rays and microwave combination sensors have been installed, so that any escape of inmates or incursion from outside could rapidly be detected.
Furthermore, in order to prevent the bringing of weapons and illegal drugs into the security zone, metal detectors, X-ray examination equipment and drug detection apparatus have been installed, and reliable inspections take place through a "safe view" system. Safe view can identify through people's clothing any hidden plastics, wooden materials, metals, tobacco and drugs, no matter what their material properties or shape. This information is then displayed on a monitor as a 3D image.
These security measures, coupled with the security that comes from human eyes and judgment, mean that we are building a flawless protection and security system.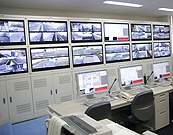 Central Observation Room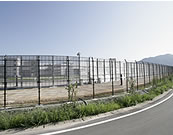 Perimeter Fence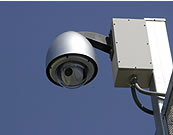 CCTV Camera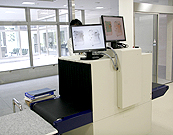 X-Ray Equipment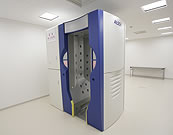 Drug Detection Apparatus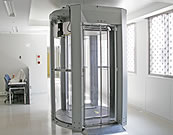 Safe View
■Efficient Operation
We have incorporated a great number of ideas from the private sector in our pursuit of high reliability and efficiency. For example, we have introduced the kiosk terminals at which inmates can purchase goods and borrow library books, and we serve the inmates meals by an unmanned automatic transport system.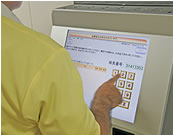 Kiosk Terminal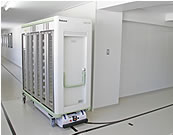 Unmanned Automatic Transport System
■Medical Care
At Shimane Asahi Rehabilitation Program Center, we have installed a medical clinic for use by the inmates in the same way as other prisons, but in our case we have entrusted the management of this medical clinic to Shimane prefecture. As a result, we can offer medical care from multiple hospital departments, and it has become possible to provide better medical care.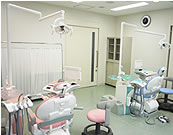 Medical Equipment (Ophthalmology)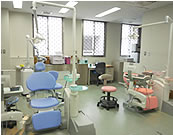 Medical Equipment (Dentistry)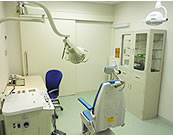 Medical Equipment (Otology)